Boundries Training
Experience an Easier Way of Life!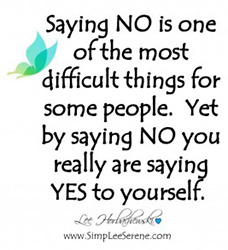 You are invited to join us for a very informative weekend regarding the topic of Boundaries. This popular subject has been a hot topic of discussion in self help groups for many years.
Designed for today's generation, this experiential workshop has specifically tailored information and activities to support you in a healthier and easier way of living. By developing a greater sense of self and recognizing that you have choices you can reclaim your personal power.
Do you feel overwhelmed and/or overscheduled? Do you ever feel at the effect of other people's behaviors or choices? Would you like more time and ease in your life?
We have solutions!
Learn to: Have clear boundaries with others and yourself; Move out of codependency and into inter-dependency
Learn to: Define what you want and how to communicate it clearly
Learn to: Breathe thru anxiety and/or "isolation" patterns
Learn to: Say "no" when needed and detach without guilt
Learn to: Apply "emotional first aid"
Learn to: Utilize practical tools that will support you in everyday life experiences
Date & Times:
TBA

Times:
TBA

Location:
TBA
Tuition:
TBA